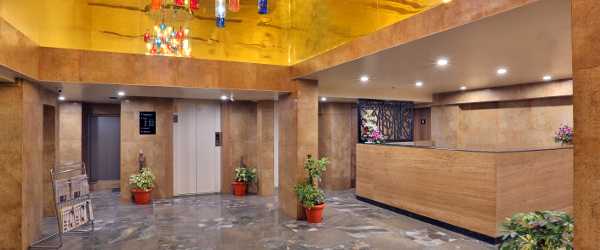 Grande Delmon
Welcome to Grande Delmon, situated in the heart of the city Panjim - Centrally located in Goa which provides easy access to local facilities, casinos, shopping centres and other places of interest making it an ideal venue for guests visiting Goa for business and leisure.
Delmon boasts 45 deluxe and 10 premium well-designed AC rooms, impeccable service and great hospitality standards at a price that's a steal and you have a perfect getaway that combines business and pleasure.
Grande Delmon Fact Sheet:
ROOMS
Our rooms are equipped with modern facilities and make you feel at home. We offer 55 rooms in two categories in the backdrop of Panjim City including room customised to the differently-abled and non smoking rooms. All our rooms are equipped with flat-screen televisions with satellite connection, wi-fi connectivity, electronic safe, mini bar, tea/coffee maker and sprinklers along with smoke detectors for your safety. Laundry and In Room Dinning is also available.
Deluxe Room: 272 Sq. ft. Room with twin/double bed.
Premium Room: 324 Sq. ft. spacious room with superior Toilets.
RESTAURANT
We bring to you a speciality Restaurant operational for breakfast, lunch and dinner along with 24 hours of room service.
Malaka Spice
At Malaka Spice you will feel the excitement that we feel as we travel through South Asia, observing and being inspired by the passion of a great food culture that we plate for you. Every recipe has been developed from the vast culture of cuisine of South East Asia and has not stopped there, after that each recipe has been worked upon a number of times, till we are convinced that the final product is close to the original version along with delightful creative twists that make the flavours of Malaka Spice so unique!
CONTACT US:
Grande Delmon,
Manchit Karekar - Asst. Manager Front Office - fom@grandedelmon.com