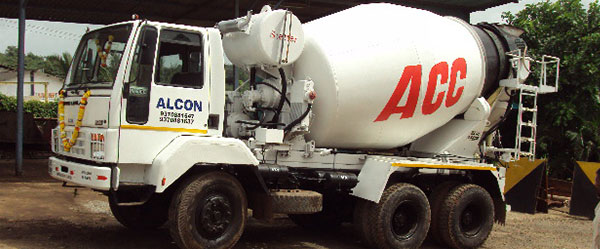 Ready Mixed Concrete
The successful takeoff of Alcon Cement Company was followed by Ready Mixed Concrete (RMC) plants, the first in the State. In fact, Alcon pioneered RMC in Goa by concept-selling the product among builders, architects and end-consumers. The plants have in-house Quality Control laboratories where concrete consistency is stringently maintained. Each plant has a production capacity of 30 cubic meters per hour and a total of 16 transit mixers transport the concrete to various sites in the State.
The first plant, in the Kundaim Industrial Estate, overlooks the picturesque Goan landscape with verdant hills and quietly flowing rivers and rivulets. The second plant is set up at the Nessai Industrial Estate, near Margao. The third and fourth plants are at Vasco-da-Gama in South Goa and Dhargal in the North. All plants are environment-friendly.
AAKAASH MANUFACTURING COMPANY PVT. LTD.
CORPORATE OFFICE:
SukerkarMansion, First Floor,
M.G. Road, Panjim,
Goa 403001 (India)
Phone: +91-832 2224451/2, 2223832
Fax: +91-832 2225616
REGISTERED OFFICE:
Velho Building, Second Floor,
Panjim - Goa
403001 (India)
Phone: +91-832 2220301/02/ 2231066
PLANTS:
A-6, A-7 Kundaim Industrial Estate,
Kundaim, Ponda,
Goa - 403110
Phone: +91-832-2395960
Tele fax: 2395961
B-3 , B-4 Nessai Industrial Estate,
Nessai, Margao,
Goa - 403709
Phone: +91- 832- 2860057

Plot No. 1 , Behind CWC Warehouse,
Bogda, Vasco,
Mormugao - Goa
Phone: +91-832-3264652

Plot no. 35/1, Part B,
Tuem – Road,
Mahakhazan, Dhargal,
Pernem – Goa 403 513
MANAGEMENT:
Aakash Khaunte - M.D. - aakash@alcongoa.com
Prashant Pawar - Business Head - prashant.pawar@acclimited.com
Rahul Gaonkar - Mktg Mgr - rahulrmxgoa@gmail.com