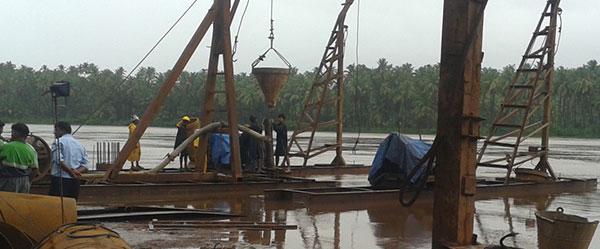 Piling Division
We are ALCON CONSTRUCTIONS (GOA) PVT. LTD. – PILING DIVISION, a well-known name in the field of construction of piles and Geo-technical investigation. We have completed numerous projects in Goa for some of the top consultants, Builders and Developers.
We have the necessary equipment and technical expertise to carry out all types of Piling and Soil Testing jobs for residential, commercial, infrastructure and marine applications. Our dedicated Engineers and Foremen at site collectively boast of over twenty years in the field of Pile Foundation and Soil Testing work. All our past projects have been executed with accurate and scientific planning, quick mobilization, effective site supervision, and close co-ordination with the Clients, Consultants and Architects. Having joint ventures with ACC Concrete and the ACC Cement, we can guarantee timely completion of projects at a very high quality levels.
We are capable of providing a "Complete Foundation Solution" till the plinth level.

FEATURES:
Construction of Piles
Geo-technical soil investigation
Top Piling Contractors in Goa
Preferred Soil Testing Agency for the PWD in Goa
We provide highly accurate Soil Testing Reports
All types of piling and soil testing jobs carried out
Over 20 years of combined experience in pile foundation and soil testing works in Goa
Our past projects include foundation piles, micro piles, secant / shore piles, marine piles for bridges and jetties in Goa.

ALCON CONSTRUCTIONS (GOA) PVT. LTD. – Piling Division
CORPORATE OFFICE:
Sukerkar Mansion, First Floor,
M.G. Road, Panjim,
Goa 403001 (India)
Phone: +91-832 2224451/2, 2223832
Fax: +91-832 2225616
REGISTERED OFFICE:
Velho Building, First Floor,
Panjim - Goa
403001 (India)
Phone: +91-832 2226849/ 2425269
CONTACT:
Vinod Pai – Sr.Enggr. – 9552538196 - vbp@alcongoa.com
Ashok Kadalli – Chief Enggr. – 9822137497 - agk@alcongoa.com
Amey Panvelkar – Manager (Business Development) – 9371703625 - avp@alcongoa.com