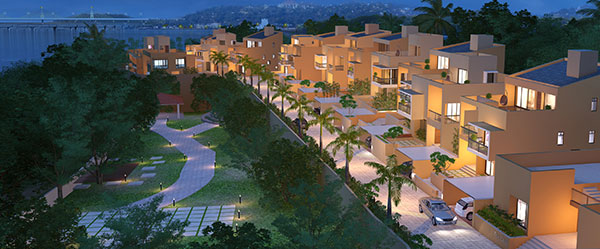 Construction
Ever since our first construction, this has been Alcon's motto. Never build houses; build homes. And the philosophy has delivered: Today we are into huge diversification within real estate and construction.
In developing exclusive and prestigious properties, Alcon has always been the first name. With us, development follows a well established process: access roads, drainage, electricity, water supply, open areas, landscaped gardens - all these are first put in place. Only then does construction begin.
Toady, we develop properties, construct bungalows, apartments and housing colonies. Design and construct hotels, resorts, cinema houses. Build jetties, bridges and roads. But whatever we construct, we never lose sight of one fundamental point: that we build for the people. If what we build is not benefitting the people at large, then we consider it a wasteful exercise.
Across the length and breadth of Goa, you'll find Alcon constructions. In fact, we 'led' the construction boom in Goa. Our structures are testimony to our obsession with quality. Because when we build, we build to last.
Visit our Construction website at http://www.alcongoarealty.com
ALCON CONSTRUCTIONS (GOA) PVT. LTD.
REGISTERED OFFICE:
Velho Building, First Floor,
Panjim - Goa
403001 (India)
Phone: +91-832 2226849/ 2425269
CORPORATE OFFICE:
Sukerkar Mansion, First Floor,
M.G. Road, Panjim,
Goa 403001 (India)
Phone: +91-832 2224451/2, 2223832
Fax: +91-832 2225616
MANAGEMENT:

Ashok G. Kadalli - Chief Engineer - agk@alcongoa.com
Amey Panvelkar - Manager (Business Developmenton) - 9371703625 - avp@alcongoa.com