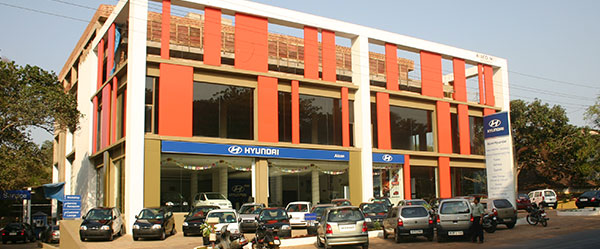 Hyundai Automobiles
Enter the Alcon Hyundai showroom and you'll understand what size really means. The 3-S (Sales, Service & Spares) showroom is executed on a large scale. A magnificent facia, built such that it can be spotted from far away. 500 sq.mts. of display area. A glittering space where spanking new Hyundais show themselves off. A huge, plush customer lounge, where you can relax while your paperwork is done. The whole showroom basks in a exclusive lighting arrangement that gives you the feeling that you've entered another world.
Alcon Accessibility - Location is everything
When it comes to automobiles, location is the key. Alcon Hyundai is conveniently located at Porvorim, on NH17, a mere 7 kilometers from Panjim. That makes it highly accessible from the capital city and surroundings.
Accessibility is perhaps the most critical feature for an automobile showroom. From the day you decide to take a test drive, through the booking, to the big day when you take delivery of your favourite Hyundai vehicle, proximity to the showroom is so important.
At Alcon Hyundai, however, we are not just close to Panjim and other important centres in Goa., we are also easily accessible from the nearby towns in neighbouring Maharashtra and Karnataka: be it Belgaum, Kankavli, Kudal or Sawantwadi, Alcon Hyundai is just about an hour's drive away!
Alcon Approachability - Easy to enter, easy to exit
The entire Alcon Hyundai premises are designed in such a way that the approach is the easiest.
Both the showroom and the workshop have easily approachable pathways that make it effortless for cars to get in or out. The workshop even has a viewing gallery which is located in the customer lounge with visual access to the shop floor. This makes it unique: You can actually see your car being serviced!
COUNTO AUTOMOBILES PVT. LTD.
(Hyundai Automobile 3-S Dealership) "Alcon Hyundai", Survey No. 20/1,
NH17, Socorro, Porvorim,
Bardez, Goa - INDIA
Phone: +91-832 2415123/4, 2410861
MANAGEMENT:
Shrikrishna Zambodkar - Asst. General Manger Sales - Shrikrishna@alconhyundai.com