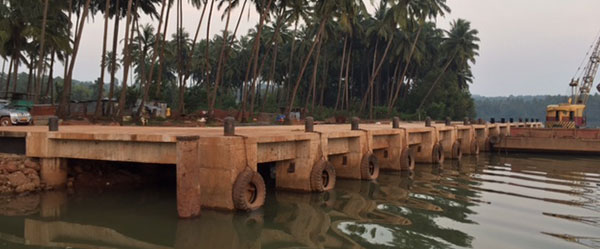 Counto Metals & Mining Company Ltd.
M/s Counto Metals and Mining Company Limited has two inland jetties on river Mandovi with facilities for loading and unloading of bulk and break bulk cargos. The group has taken the initiative to develop the inland waterways and water logistics with a view to utilise the river waters efficiently for logistics.
The jetties provide for infrastructure for import, export or local coastal movement for raw material and finished goods of the manufacturing plants and mining industry. Strategically located in Village Cothambi, in Bicholim Taluka , North Goa they are in close proximity to Goa- Karnataka and Goa Maharastra road link. In tandem with Panaji port (minor port) and the Mormugao Port Trust (major port), the jetties offer improved and economical logistics.
The Jetties have barge-loading and unloading capacity of up to 800 tonnes per hour depending on bulk commodity. They are equipped with two Government certified and linked weighbridges with a capacity of 60 metric tons each. About 24000 sq.mts. stock piling area is available to stock the materials. All these facilities ensure quick turn-around of the barges used for material movement.
We are committed to preserving the environment and a green belt has been developed and maintained along the boundaries of the jetty and the storage yard. Incidence of dust is kept to a minimum with a wind-breaking wall. Water sprinklers can be used round the clock. The jetty is operational in three shifts.
COUNTO METALS AND MINING CO. LTD.
CORPORATE OFFICE:
Sukerkar Mansion, First Floor,
M.G. Road, Panjim,
Goa - 403001 (INDIA)
Phone: +91-832 2224451/2, 2223832
Fax: +91-832 2225616
JETTY ADDRESS:
Survey No. 19/2, 20/1 Kotthambi Pale,
Bicholim - Goa 403105
Phone: 9545532040

MANAGEMENT
Ghanashyam Kerkar - Unit Head - gks.kerkar@alcongoa.com
Naresh Mandrekar AGM - Business Development & Operations - n.mandrekar@alcongoa.com